In my opinion the
Final Destination
franchise is the worst series of horror films released in the last 20 years, beating even the many crappy
Saw
sequels, and the fifth installment of this terrible franchise is the worst yet. Now, pretty much all aspects of this film are bad, but let start with the acting. The two main characters and best friends Peter 'eyebrows' Friedkin (Miles Fisher) and Sam Lawton (Nicholas D'Agosto), really do take the biscuit with some of the worst acting I've ever seen. Not only is their line delivery shocking, but Peter Freidkins eyebrow prevent the viewer from taking him seriously at all (you will understand when you see them.)
The inevitable far-fetched and ridiculous deaths start happening right from the start. When Sam and Miles embark on a work trip with their colleges. Whilst sat on a coach in a traffic jam, Sam has a premonition that the bridge they are on will soon collapse. .
Just as he starts warning the group of their imminent deaths, the bridge starts to crumble beneath them. Luckily enough, however, the main characters all survive, while a bunch of extras die when the bus plunges into the river below. The rest of the film plays out the same as previous four installments - with death hunting down the annoying characters and eventually catching up with them in increasingly ridiculous ways.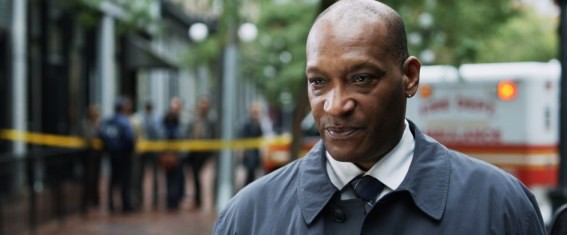 The paycheck wasn't bad, so I don't give a fuck!
There's practically no plot. Just a showcase of stupidity and bad acting in-between the death scenes. I actually enjoyed the death scenes, not for the special effects or gore, but because one of the annoying characters had been killed. The final scene in the kitchen is a showcase of all the things that make this film terrible: the terrible acting, ridiculous script, and predictable deaths. The only highlights: the crappy actors eventually die, and Tony 'Candyman' Todd's cameo.
I really hope they don't make any more of these films. I wouldn't even categorize this crap as cinema. Stay well clear of this, or you'll regret it.